Ningaloo Whale Shark Swim & Eco Tour on a Sailing Catamaran (shoulder season)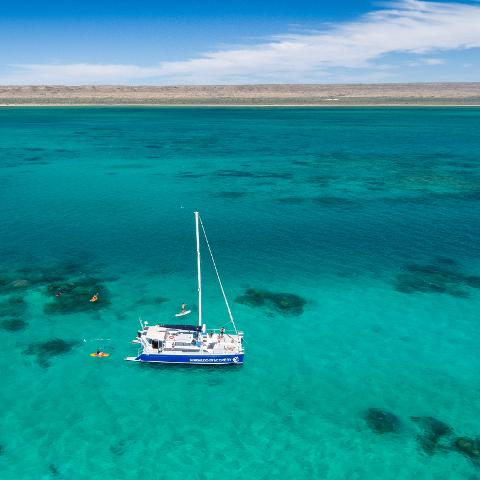 Duration: 9 Hours (approx.)
Location: Exmouth, WA
Product code: ECO
Whale Shark Swim & Eco Tour on a Sailing Catamaran - Shoulder Season (August, September, October)
Whale sharks are frequent visitors to the Ningaloo Reef, even after the official whale shark season is over. This means that on board our Eco Tours which run from August to October guests will also have the opportunity to swim with the whale sharks during the shoulder season, when sighted by our spotter plane.
The Ningaloo Reef is alive with marine wildlife during the month of August and on any given day Mother Nature may present the opportunity to view or swim with Manta Rays, Whale Sharks, Humpback Whales, Turtles, dugongs, dolphins and a huge variety of tropical fish and corals.

We offer guests the most stable and comfortable viewing platforms to view and interact with this wildlife from the decks of our 58ft luxuriously appointed sailing catamaran. Join us for a day out on "Windcheetah" as we set sail through the shallow turquoise lagoons and along the back of the stunning Ningaloo Reef whilst stopping to take advantage of whatever spectacular wildlife comes our way.
Your day includes the opportunity to snorkel the reef, view Humpback Whales, spot turtles, dolphins and dugongs. If the opportunity presents itself to swim with a Humpback Whale or Whale Shark the option is there to upgrade onboard on the day for an additional "Humpback Whale/Whale Shark Swim Fee" of $50 cash per person. We also often encounter the curious and interactive Manta Rays and do our best to get you for a swim with these inquisitive and majestic creatures at no extra charge.
Weather and time permitting try your hand at one of our Stand Up paddle Boards or a kayak during the afternoon snorkel for a different view of the reef.
Our amazing itinerary for the day:
- Starting from 7:45am, you will be picked up from your accommodation and taken out to the Windcheetah sailing catamaran where you will be greeted by our friendly crew and fitted with masks, snorkels, fins and wetsuits.

- Moments later immerse yourself in the crystal clear waters of Ningaloo Reef at one of our beautiful snorkel spots in the sheltered lagoon. Here you will see an array of corals and colourful fish, sometimes even turtles and rays! Take this time to ask questions, get snorkelling tips, make sure your gear fits and practice getting on and off the boat before swimming with any marine life.

- Now you can enjoy morning tea as our plane gets searching for any marine life in the area, anything the pilot finds, we will get you up close with the boat to observe. If a Humpback Whale or Whale Shark is spotted the pilot, skipper and crew will asses the conditions and if deemed suitable, guests wishing to purchase an upgrade will be directed to put their snorkel gear on and we will do our best to get you interacting with them in the water! All guests will be invited to swim with a Manta Ray if we find one at no charge.
- Enjoy a delicious buffet lunch as we cruise the reef in search of any other wildlife that may be around on the day.
- Now we head back inside the lagoon where the water is turquoise blue and anchor up at a new special spot on the reef for another snorkel. Weather and time permitting try your hand at one of our Stand Up Paddle Boards or a Glass Bottom Kayak during the afternoon snorkel for a different view of the reef.

- Relax with some refreshing afternoon tea and a glass of sparkling wine on our way back to shore before the crew return you safe and sound and full of smiles back to your accomodation.

- The experience lives on as we will provide you will all the photos of the day taken by our professional photographer free of charge!!!
Tour Includes
Full day tour, 7:45am - 4pm
Complimentary bus transfers from your accommodation in Exmouth to the boat ramp and return. Flying in to Learmonth on the early flight? No problem, for an extra fee we can pick you up form the airport and take you directly to the boat. You could be swimming with marine life the same day!
Experienced, professional award winning crew on board and supporting you in the water as much as you need. Interesting informative spiels about the area and the marine life will keep you entertained too.
Spotter aircraft to ensure best possible opportunity of sighting and swimming with marine life such as Humpback Whales, Whale Sharks and Manta Rays!
Small groups when swimming with marine life to ensure everyone gets a great experience
Opportunity to swim with Whale Shark and/or Humpback Whale on the day if we locate them. The government "Humpback Whale/Whale Shark Swim Fee" is just an extra $50 cash per person, not per animal!
No charge to swim with Manta Rays if we encounter them!
Snorkelling on the Ningaloo Reef
Quality snorkel equipment including mask, snorkel, fins of all sizes
Wetsuits of all sizes
Flotation aids and life jackets available on board if required
Marine specialists onboard to answer all your questions and guide you
Opportunity to assist with hoisting the sails or relaxing on the bow nets, daybeds or bean bags
Stand up paddle boards and kayaks for use in afternoon snorkel (weather and time permitting)
Yummy Morning Tea, Buffet Lunch and Afternoon Tea provided, we can cater to dietary needs
Sunscreen, water, dry area for your belongings and shade on board
Boom net for towing along behind the vessel through the shallows of the lagoon (weather and time permitting)
Complimentary Professional Photography Package of the day. Thats right, ALL THE PHOTOS FOR FREE!
What should I bring?
We provide so much that all we recommend you bring is the following:
Your excitement and positivity!
Swimwear
Hat
Towel
Warm clothes for after snorkelling
Sea sickness medication if you feel like you may need it
See what our guests say about us!
Don't take our word for it! Check out our
Tripadvisor Page
and see what other travellers have said. We pride ourselves on all our amazing reviews and would love you to take a look for yourself!
Questions and Answers
How Long is the Tour?
Our tour departs Exmouth from 7:45am and returns at approximately 4pm. We make the absolute most of the day to ensure we maximise our time on the water to get you swimming with a Ningaloo Reefs amazing marine life!
Where does the tour go?
Ningaloo Discovery operates from Tantabiddi Boat Ramp on the western side of Exmouth Cape, right in the middle of where Humpback Whales, Whale Sharks, Manta Rays and more are found on Ningaloo Reef. Our travel time between picking you up and being in the area where the marine life is located is the absolute shortest possible. We arrive in the area where the marine life is and can stay there longer due to our short travel times. The western side where we operate from is also the location of the Ningaloo Reef snorkel sites and home to all other wildlife such as turtles, dolphins, and more! Anything around on the day will also be part of your tour.
Where do we snorkel on the reef?
There are endless beautiful snorkel sites on Ningaloo Reef. Our Skipper and crew will take the Windcheetah to somewhere that they know will be spectacular on the day based on the wind and tide. You will see coral gardens and hundreds of beautifully coloured fish. Keep your eyes open for a friendly turtle or a sleepy reef shark too. You never know what you will see.
Tell me about the Free Photography Package
As our gift to you, all guests, including those not swimming, will receive all of the professional photographers photos of the day free of charge! A wonderful keepsake to remember the whole experience. Our photographers are very experienced using high quality underwater camera gear to give fantastic clear photos both from above and below. After the tour you will be given link, simply open it up and download!
Swimming with marine life, how is that done?
Ningaloo Discovery is allowed to get nice and close to marine life due to special permission from Department of Parks and Wildlife allowing us to view them perfectly from the deck of the Windcheetah. By approaching Humpback Whales and Whale Sharks as close as 30m, you will be able to enter the water with our experienced in water guides and enjoy them as they swim towards you. We will do all that we can to maximise your chances of an epic swim with a Humpback Whale, Whale Shark or Manta Ray depending on what our pilot and crew find for you on the day. With the help of our spotter plane we can find marine life that is the most likely to be comfortable with us in the water with them. Swimming with mothers and calf Humpback Whales is not allowed but observing them from the boat is a wonderful sight.
All of our crew have participated in Department of Parks and Wildlife Humpback Whale and Whale Shark Swimming Training Programs so they are very qualified and experienced in how to swim with a marine life in a effective, non invasive way. The crew will explain to you how to best swim with the animals to increase our chances of a perfect experience.
**Please note that you must have basic swimming ability to participate in water activities.**
Do I need to book?
It is absolutely advisable to book in advance. Ningaloo Reef is the only place in Western Australia where you can swim with Humpback Whales and Whale Sharks so demand is high! Spots are limited and groups are small to keep the tour intimate and enjoyable so you could miss out if you don't book in advance! To book now, simply click HERE
What is the policy if I don't swim with a Humpback Whale or Whale Shark?
While Ningaloo Discovery will do anything and everything in their power to provide you with an in water experience, we cannot guarantee the animals will be present on the day or always viable to swim with. If you don't get to see a Humpback Whale or Whale Shark from under the water while snorkelling we do not provide any refunds or return tours, however you will only be charged the additional government "Humpback Whale/Whale Shark Swim Fee" if you are successful in swimming with them.
Why Ningaloo Discovery?
Ningaloo Discovery prides itself of 5 star service, quality and experiences. Here are a few things that make us special:

No age limit! All ages welcome to participate.
Only sailing catamaran offering this experience
Our swim platform is the lowest, below the water level, making it the easiest vessel to get off and on when snorkelling
The catamaran is the most stable style of vessel, less likely to feel the effects of sea sickness
Our crew are all qualified, trained, experienced and incredibly passionate! They will treat you like royalty!
We are a multi award winning company. Multiple WA Tourism Awards, Tripadvisor Certificates of Excellence and we have been awarded certification in Advanced Eco Tourism by Eco Tourism Australia
Our tour is all inclusive! You only pay extra if we find a Humpback Whale or Whale Shark and want to swim with it.
Family owned and operated. The owners of Ningaloo Discovery have years of experience, hold an Honours Degree in Marine Resource Management, have worked in Marine Safety and have travelled the world operating vessels and working in marine tourism.
What if I get Sea Sick?

Sea sickness is always a risk when spending a day on the water. Our sailing catamaran Windcheetah is the best option for anyone worried about feeling unwell on the tour due to its twin hull design. Catamarans are renowned for being the most stable on the water which helps to keep motion sickness away.
Ways that you can avoid illness form affecting your day are:
Avoid drinking alcohol the night before your tour
Eat a small non greasy breakfast prior to arriving
Purchase yourself some sea sickness medication from a pharmacy and take it as per the instructions
Once onboard, sip water and keep your eyes on the horizon as much as possible
Sit out in the breeze, don't confine yourself inside
Try not to think about it, sometimes your own mindset is the best preventative
We offer water and assistance on board to anyone who may feel unwell.
What are your Terms and Conditions?
Please refer to the Terms and Conditions section of our website.